Create Print Prepare GSTR 3B in Tally ERP 9 for Aug 2017 Sep Oct Nov Dec, How to File GSTR 3B with Tally ERP 9 Directly, How to Prepare GSTR 3B in Tally
Prepare GSTR 3B in Tally ERP 9 : Where the time limit for furnishing of details in FORM GSTR-1 under section 37 and in FORM GSTR-2 under section 38 has been extended and the circumstances so warrant, return in FORM GSTR-3B, in lieu of FORM GSTR-3, may be furnished in such manner and subject to such conditions as may be notified by the Commissioner.
As per recent notification released by govt of India GSTR-3B will continue to be filed for the months of August 2017 Oct Nov Dec 2017. All businesses are expected to submit a consolidated summary of their sales and purchases through a form called GSTR 3B.
How to Create Prepare GSTR 3B in Tally ERP 9
First of all open tally software.
Select the company for which you want to Prepare GSTR 3B
Go to Display Menu
Click on Statutory Report and select GST
Now Click on GSTR 3B
Click on Print Return
Who Needs to File GSTR 3B Return
Every person registered under GST
For each GSTIN, separate GSTR 3B to be filed
NIL GSTR 3B must be filed, if there is no transaction during the month
However, the following registrants do not have to file GSTR-3B
● Input Service Distributors
● Composition Taxable Person
● Suppliers of online information and database access or retrieval services (OIDAR), who have to pay tax themselves
● Non-resident taxable person
For GSTR 3B department has yet not provided the facility to upload using Excel, and hence the details have to be filled in manually on gst.gov.in but with Tally.ERP9 Latest release you can very easily get information what needs to be filled in on the website
How to Prepare GSTR 3B in Tally ERP 9
Form GSTR 3B is an interim return form to be used by GST dealers with regular registration for filing returns for the month of August 2017. GSTR 3B is an online form where dealers will enter details directly on the GST portal. This report can be printed from Tally.ERP 9 with all transaction details in the required format. The details from the printed report can be used to fill in the online form on the GST portal.
In Tally.ERP 9, GSTR-3B can be viewed in the report format with tax computation details. This report can be changed to the table-wise format (department format) with the click of a button.
To view GSTR-3B
1.    Go to Gateway of Tally > Display > Statutory Reports > GST > GSTR–3B.
The GSTR-3B report appears as shown: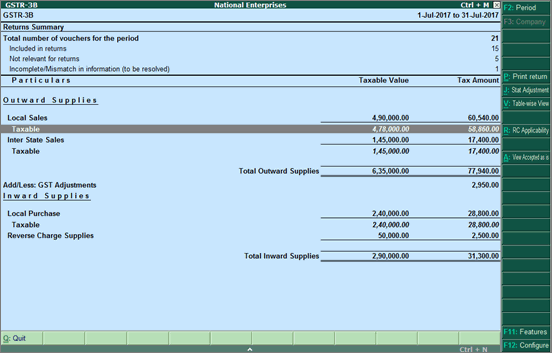 Hope you guys get complete information of how to Generate Prepare Create GSTR 3B with the help of Tally ERP 9.